My Mission:
1,000% or More

in a Year Starting Today. Let's Get This Done!

Thanks for joining me today. And now, it's time to buckle up!

Today, I'm taking a small group of folks under my wing.

We're going to be targeting the fastest-growing small stocks in America – cash-rich companies with explosive profits and screaming growth.

I'm talking about record-shattering stocks with the biggest gains in the market today.

If you have any doubts, just look at some of these top performers in the last year alone…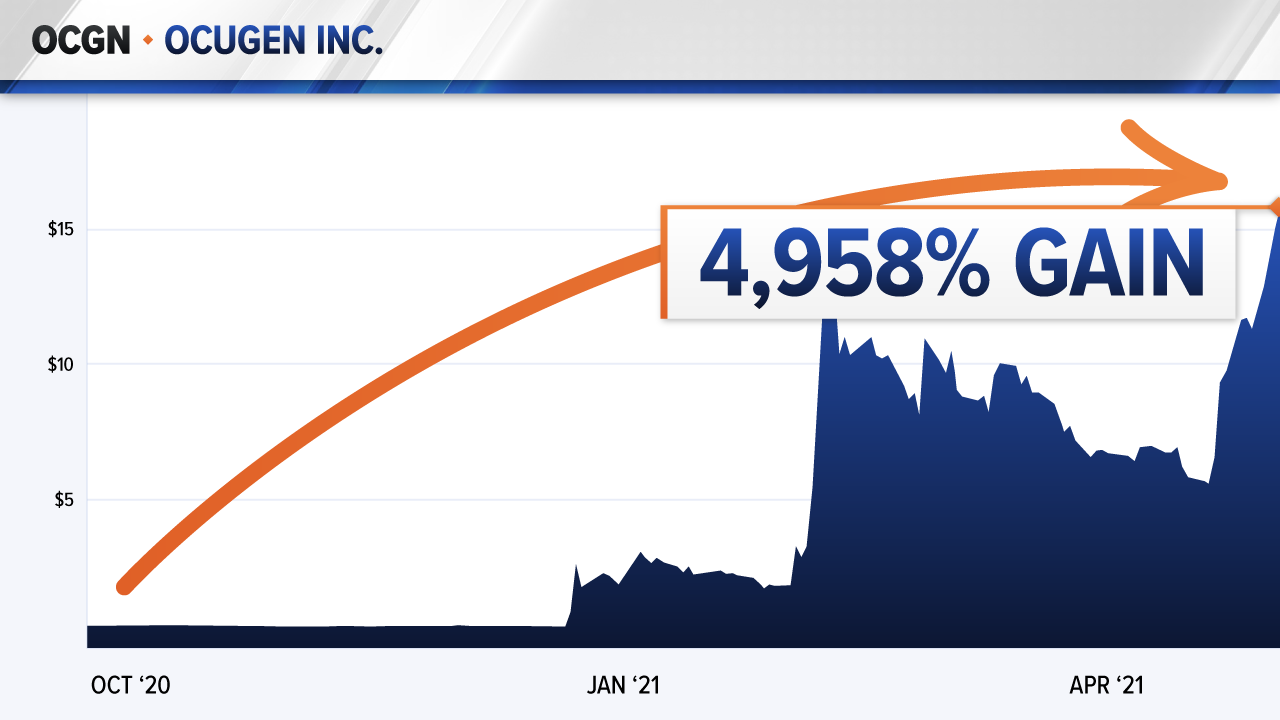 Extreme Profit Hunters is not designed to beat the market by a few percentage points. It's for speculating on small companies that could grow as much as 1,000% or more in as little as a year.
Why mess around when you have the potential to make 10 times… 20 times… even 30 times your money or more in a single year?
Of course, Wall Street hates my system because they can't play these stocks. 
But that won't stop US from capturing these monster windfalls. And remember…
The $5 Threshold Is THE Key to Record Profits!
That's why we're only targeting stocks that trade under $5 a share.
This is where the big money is made. Period!
Turning a $5 stock into a $50-a-share whopper is our goal.    
And that's why our unique 7-Trigger Edge is so phenomenal!
The moment seven triggers are activated, these gems are set to fire on all cylinders, with the potential to shoot up 10 times or more. 
Just like these stocks straight from my data…
All of these gains happened in just a few years.
And after four decades of being in the trenches, I can say without batting an eye…
No one is going to show you how to find stocks like these when they're trading for a buck or two a share before they skyrocket.
Yet with my system, I could hand these opportunities to you on a silver platter.
It's why I created Extreme Profit Hunters. And it's why I'm inviting you to join me today.
I Do All the Heavy Lifting for Us
We're in this together; you'll have me at your side every step of the way, uncovering the very best stocks that are firing off SEVEN TRIGGERS and could be on the verge of a massive explosion.
You'll also get...
Extreme Profit Hunter Buy Alerts
The minute we identify a potential rocket that makes the cut, you'll receive an Urgent Alert in your inbox.
You'll get my complete analysis trigger by trigger. Profits, margins, cash flow, liabilities – every single thing I look at – as well my "buy-up-to" price, future projections, and why I believe it'll be a home run.
Extreme Profit Hunter Sell Alerts
You'll get my 7-Trigger Edge Sell Alerts instructing you on how to exit any position for the biggest potential profits. (But please note: Stocks like these can run for years, accumulating astronomical gains over time...
But I doubt you'll ever get tired of seeing them in your portfolio!)
Extreme Profit Hunter Instant Text Alerts
I urge you to sign up for my unique text notifications to let you know as soon as an alert hits your inbox.
No need to sit by the computer waiting for my signal.
Extreme Profit Hunter Zoom Calls 
This is where I do a deep dive into every new recommendation, review the seven triggers, as well as key metrics, and all the critical developments – like new products, contracts, recent initiatives, competitive advantages, revenue potential, and growth projections.
I leave no stone unturned. And while I can't answer personal financial questions, you'll get a breakdown of every opportunity and how it could multiply your profits.
Plus, you'll get updates on our current positions and any potential plays I have on my Hot Stock Watchlist.
Extreme Profit Hunters Website
All the meetings will be recorded and stored in your password-protected members area…
Along with every alert, Investment Dossier, exclusive research, our Model Portfolio, and a members-only forum where you can ask questions and connect with other members…
All conveniently located in one place with 24/7 access to everything inside Extreme Profit Hunters.
Extreme Profit Hunters Hotline
You'll never be left on your own. Any time you have a question or need any help with your subscription, my VIP Services team, is on standby. Just send them an email or call them during business hours, and one of my team members will take care of you.
Frankly, there's nothing in the world quite like it.
We're Starting with These Four Plays Today
There will never be a better way to jump in and get started… beginning with four paths to wealth potential few will ever know about.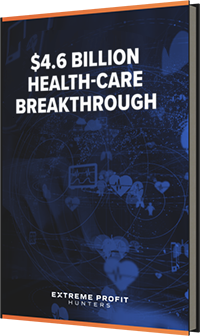 Seven Triggers Firing:


$4.6 Billion Health-Care Breakthrough

This small, under-$5 health-care firm is firing off seven big triggers right now. And I expect the triggers to keep firing with a breakthrough new treatment for growth hormone deficiency planned to hit the market before the end of the year – plus a $100 million deal with a major drug company to develop medication for treating thyroid disease.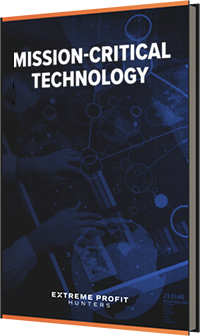 Seven Triggers Firing:


Mission-Critical Technology

This tiny company has seven triggers firing right now. They're a small manufacturer of critical electronic components that's on fire. New orders are up 70% with major automotive, oil and gas, and military contracts. Plus, they've signed a new deal to supply electronics for a $10 billion energy project. The stock is under $4 a share, and it's a screaming buy.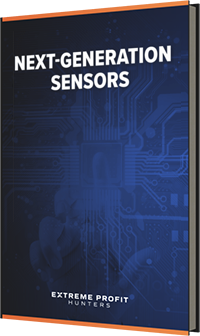 Seven Triggers Firing:


Next-Generation Sensors

We've got seven triggers firing on this tiny $3-per-share American innovator. Will it keep going? Just consider… its infrared sensor technology is so hot they're opening a new factory just to meet the demand. New contracts with medical and telecommunication firms are coming in fast. And they just signed a deal with NASA. The stock is less than $3 a share. And with seven triggers firing, there's no time to waste.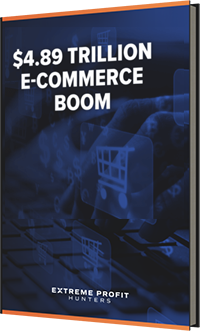 Seven Triggers Firing:


$4.89 Trillion E-Commerce Boom

This is a mobile advertising company that's raking it in from e-commerce. They work with the biggest online brands and have just partnered in a deal to advertise in the rapidly growing medical cannabis market. Annual profits, margins, and cash flow are through roof. The stock is around just $3 a share, and it's firing off seven triggers. The trend is clear.
Joining Me Today May Be the Only Way to
Create Unheard-Of Wealth
I have no doubt about the life-changing potential of the four stocks I'm rushing you today.
But that's just for starters.
You're also getting one to two new picks a month so that you can build a rock-solid portfolio of the most explosive stocks, each with the potential to 10X your money or more in as little as one year.
When you consider everything you get with Extreme Profit Hunters, the value is absolutely insane.
And I'm going to make this a very easy decision for you to join us.
I'm not asking $30,000… or $15,000… or even $10,000…
The retail price is $5,000 a year.
And for everything you get, it's worth every penny.
But I'm doing something special for the folks who are ready to take action now.
For the First 250 Members Today:
Two Years of Extreme Profit Hunters with an Instant $7,800 Discount
That's a total of TWO FULL YEARS of unrestricted access to all the exclusive research… all the weekly calls… all the alerts, updates, and new Investment Dossiers… and every new recommendation I'm going to send out for the next 24 months.
This is a 78% DISCOUNT to reward the action takers – which in my book, is the most important character trait you need to achieve massive success.
And to make this a complete no-brainer, I'm throwing in my…
100% Money-Back Guarantee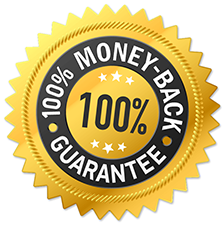 I guarantee in the next 12 months to show you at least 20 extremely rare stocks with outrageous potential... each firing off seven critical triggers and trading under $5 a share.
And if I don't… even if I miss that target by one pick… simply call my VIP Services team and they'll issue a full refund.
I'm taking all the risk here. So you have absolutely nothing to lose with Extreme Profit Hunters.
But you must move fast.
This is a one-time-only offer, available to only 250 people today on a first-come-first-served basis.
With over Two Million Money Morning Readers, These Spots Will Be Gone in No Time… and You May Never Have This Opportunity Again
So let's not waste another second.
Simply fill out the order form below to secure your spot and get started now – before all the slots fill up.
This is YOUR shot at the biggest stock market windfalls you might ever see. And the chance to build real wealth like never before.
Don't miss it.
Your first four stock picks with my detailed analysis will be sent to you immediately.
And that's just a taste of the moneymaking opportunities to come – with me by your side, showing you how to profit wildly as these opportunities unfold.
You've already seen the wild runs many stocks go on after they fire off seven triggers… so this is going to be a thrill ride like never before!
You have my promise on that.
I can't wait to see you inside!


Shah Gilani
Founder, Extreme Profit Hunters
March 2022
---