The Market Super Cycle Is Targeting Commodities
Trade seasonal energy plays amidst the markets freefall
What Makes Night Trader Unique?
I created Night Trader with two main goals in mind:
To show you how to potentially put extra money in your pocket in the next 4-6 weeks, and…
To give you at least another 100 chances to double your money after that.
That's why I'm firing up my "big guns" on your behalf every single week – doing the work FOR you because I know you're busy.
Look, I know sometimes trading takes hard work.
And there are plenty of other experts – like Kenny Glick – whipping out day-trades like nobody's business.
And that works well for him – but for most people, that's simply too fast and stressful.
Here in the Night Trader community, we like to slow down the markets…
You know, the type of trade you don't need to worry about every single day.
Once it is entered, you don't need to watch your screen or headlines to know when to get out…
Easy as could be.

Now I'm working on a limited time event because the data is telling me we are about to see an all-out attack on the energy sector.
Summer Energy Portfolio
My Night Trader members know that the market has been treading on thin ice since the start of 2022.

Between the Fed halting further pandemic-era cash injections, inflation, and more, the end of our decade-long bull market is imminent.

But I'm here to tell you that this reality shouldn't scare you in the least, especially using several key strategies I use to profit in some of the "worst" market conditions.
Actually, I've been saying this since October.
Between inflation running amuck, headlines leading good folk the wrong direction, and the pain we feel at the pump, nobody knows which way is up.
That's why I am here.
Using a specific set of technical indicators ive been able to help my Night Traders make money hand over fist.
Now, I'm turning my target to the energy sector for a special side portfolio.
On top of the normal recommendations you would get by being a member of my Night Trader you are going to get an additional 2-4 recommendations a month for the rest of summer.
That's right 2-4 recommendations a month that have a strict focus on the energy sector to help you make some of that gas money back.
In addition to that we are going to be having a guest speaker on each week for an action-packed 15-minute energy caucus to give an outside perspective on the state of the energy market!
You will recognize some of my guests that will be joining us, names like:
Tom Gentile
Shah Gilani
Mark Sebastian
8-baller
Are all here for you this summer in my Night Trader to give insight on where the energy market is at today.
We are here to show you how to make energy profitable in the short and long term.
The time to start trading is NOW. We are already underway positioning our side portfolio to have a profitable summer. There is no time to spare because no matter how much we slow the markets down, there is always a chance to miss the bus.
That being said, I am putting together a special report that will assist you long term in the energy market but to make money we have to get ahead of the market.
Portfolio Transparency
Check it out!
This is an idea on how our portfolio has been looking just since April.
Most traders show you the gains, but I want you to see for yourself what a realistic trading portfolio looks like.
Sure, it may not be quite as exciting to see a few losses…
But I'm proving to you that I'm the real deal.
And real traders win and lose.
With that said, what I'm offering is to show you exactly how the Wall Street elite actually trade.
Since the start of 2022, the S&P 500 has fallen roughly 19%.
And there were some big winners in there.
Just take a look for yourself…
Had you been part of Night Trader, you would have had the chance to score…
A 50% gain on Ford Motor Co. (NYSE:F) in one day…
A 100% gain PayPal Holdings Inc. (Nasdaq:PYPL) in seven days…
A 108% gain on Bank of America Corp. (NYSE:BAC) in eight days…
A 185% gain on Invesco QQQ ETF (Nasdaq:QQQ) in just over one day…
And so much more.
Once again, you can see all my wins and losses right up above – so you know not every trade will go our way.
That's just the nature of trading – even the best technical analysis can't foresee every single unexpected action.

But my point is that I'm sharing with you some of the simplest and most effective trading tools I can find.
And now, you can access them too.
What members are saying…
"First month in Night Trader. Closed 25 trades, 18 wins – 7 losses 47% gain"
"59% in one month, enables me to have fun"
"113% in 5 days, feel more comfortable about retirement"
These are just the experiences of some of our happiest readers. Not all trades will be winners like these. Some will only break even, and some will lose. One thing I know for sure, over the last 6 months our winners have far outpaced the losers and I expect to have more of the same moving forward.
Market Close LIVE Trading Sessions
You'll have a chance to join me LIVE in our exclusive Night Trader Club Room at 3:30 p.m. (ET) Monday through Thursday every week.
The first half hour is mostly business…
After all, we only have a limited time to get our last few trades of the day in before that market bell rights.
As the old saying goes: Amateurs trade the open, and pros trade the close.
In the morning, speculators are running wild.
Compare that to the afternoon where technical traders like myself are busy reading exactly what the data is telling us.
I'm pulling up the charts that matter most and helping you find the next big trade to add to our portfolio.
And once the market is closed, there is still plenty of time to review the charts you want to go over…
That way, you have a leg up the next morning when you're looking to place your own trades.
We talk about all the "technicals" – everything from Bollinger Bands to moving averages, Historical Data, and so much more.
I like to think of it as our way of tuning out the media hype and paying attention to what the vital signs are actually telling us.
Commentators on the cable news are there for one purpose – entertainment…
And although my Night Trader members have a serious funny bone, we're in this community to actually do the work and get paid for it.

Even when I'm not live, there's still a place you can go to get support from your fellow traders…
24/7 Night Trader Discord Server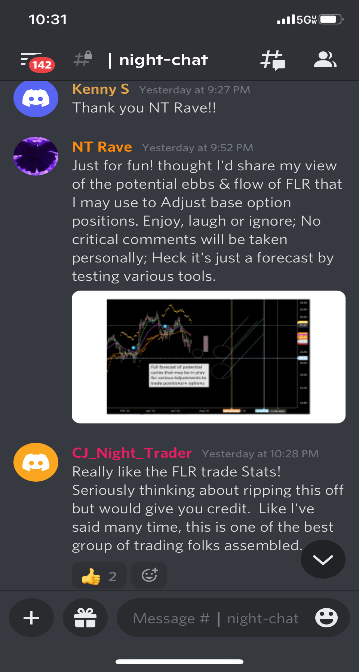 Right inside the private Discord, you're invited to chat with fellow traders.
Any and every investing-related question you have, you'll be able to shoot me a message about it – or crowdsource any ideas from your fellow Night Trader members.
Some of my best trades have come from the Chat Room.
I also use the Chat Room to send any urgent Trade Alerts.
If we need to quickly adapt to the market, make sure to check the Chat Room for any instructions.
Text Message Alerts
If you're always on the run, I've got you with optional text message updates.
Whenever we need to make a quick entry into a profitable trade, you'll receive a text message letting you know it's time look for my updates.
It is the fastest way I know of to make sure you stay in the loop on the go.
And that's more necessary than ever because…
Today, Stocks Move Fast
This isn't your dad's way of investing anymore…
I hate to break it to you, but if you aren't using data analytics to trade – you're practically living in the Stone Age.
Since conditions are changing more rapidly than ever, we must update our tools if we want to continue profiting from the market.
In my elite research service Night Trader, I provide the tools for you.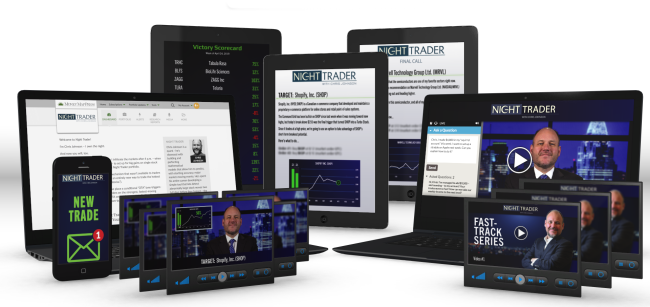 If You Want to Be Sure You Can Access Our Next Live Trading Session, You Need to Take Action NOW
There is only a limited time before the next market super cycle moves further into its attack on the market.
And right now – until my countdown clock strikes zero – you have an opportunity to get my Summer Energy Portfolio and the rest of my Night Trader services before the market takes its cut from your portfolio.
And if you click off this page, you might not see another chance to profit from a down market like this for years to come.
You saw my portfolio – I'm dishing out plenty of winners.
Get on the list to be among the first to receive my Energy Market Guide and Summer Energy Portfolio. The Night Trader community is waiting for you!
And all you have to do is subscribe below.
I look forward to seeing you in our next Energy Caucus session!
To your success,
Chris Johnson
Founder, Night Trader
July 2022
Join Night Trader
ONLY $795 for 6 Months
---