You Could Quintuple Your Cash in Two Hours or Less…
In the FED MEETING FALLOUT
The Fed's latest move could TANK THE MARKET.
In the two years since COVID-19 first struck the U.S. the Fed has tried to stimulate economic recovery by lowering interest rates.
But now, the Fed thinks that the economy is strong enough – and they are done lowering interest rates…
Now they are raising them – significantly.
Policymakers have agreed to spend the next three months hiking interest rates.
And they don't care that this move could potentially CRASH THE MARKET.
That's why I'm going to show you how to turn a tanking market into potential profits up to 400% – in two hours or less.
In the fallout of the latest Fed meeting, I'm going live EVERY DAY to trade.
And that's when I'll host my live, EXCLUSIVE FED TRADING SESSION
A strategy that in the past two months alone has delivered five of my best profits: 138%, 233%, 278%, 574%, and 894% – all in two hours or less.
Now, past performance doesn't guarantee future results. But if you average my top trades together, you get more than 400% profits…
Which is equivalent to quintupling your cash with a single trading strategy.
Listen – this strategy works best when volatility is high.
So far this year, the CBOE Volatility Index (VIX) has ranged from a low of 16.6 to a high of 36.6.
On June 2, the VIX sat around 26.5 – right in the middle of that range…
VIX June 2 | Yahoo Finance
Using my volatility strategy, I recommended a call for $1.45 that returned 138% by closing bell.
On May 11, the VIX was higher – around 33.4…
VIX May 11 | Yahoo Finance
And I recommended a put trade for $2.00 that returned 278% in under two hours.
On April 25, the VIX was also high – around 31.6…
VIX April 25 | Yahoo Finance
After 2 p.m., I recommended a trade on the SPX for $1.90…
That expired two hours later for $18.88 – a 894% profit.
In the past two months, 15 of these volatility trades have profited.
And those who traded them are rolling in the dough…
To be clear, these are some of my happiest members. Not every trade is going to end this well – some will only break even, and some might even lose money.
But every one of these profits were made in under two hours' time – and they were all thanks to the same thing…
VOLATILITY.
Which could spike to its highest level so far this year on Wednesday, as Jerome Powell announces yet another interest rate hike –
Giving you the opportunity to use this strategy to potentially quintuple your cash in two hours during my live trading sessions.
I'll start trading in my LIVE trading room at 2:15 p.m. every single day. The Fed's plan is going to spur the volatility we need to make potential 5X trades over… and over… and over again.
And I want YOU to trade these opportunities with me in Profit Revolution.
In addition to these two-hour volatility trades, I recommended options trades under $1 every day during my…
LIVE members-only trading sessions Monday–Friday.
Every single trading day, you'll have a chance to join me LIVE in our private Profit Revolution members-only live trading room.
I'll give you an update on all our open positions and a quick macro rundown of the markets.
Then, we'll get right down to business – and start hunting the latest trade opportunity.
My scanner narrows down thousands of stocks to the top 30 with low implied volatility relative to historical – which signals a HUGE move is on the horizon.
From those top 30, I hunt for the BEST profit opportunities for $1 or less per option. (At the most, only $100 per contract.)
Then, I show you how to trade these opportunities LIVE every single day alongside a community of top traders.
But you don't have to be there live every day. Because as a Profit Revolution member, you also have…
Automated email Trade Alerts.
Because of a brand-new technology developed in-house, we can now send emails automatically.
The moment I post a new trade recommendation in the Profit Revolution live trading room, all of the details will go immediately to your inbox.
It doesn't matter if you're there live or not. Either way, you'll have all the details you need to make the trade right away.
And every live session is recorded, so you can always come back and watch later.
Profit Revolution 24/7 chat room
During every single trading session, you'll have a chance to chat LIVE with your fellow Profit Revolution members.
Having a whole network right by your side is KEY to successful trading – I leverage my hedge fund contacts all the time to help me make my moves.
My viewers love to ask questions, swap trading ideas and strategies, and share their biggest wins for the week directly in the chat.
The next 10X windfall opportunity could be hatched right in the chat alongside fellow traders!
24/7 access to my Tactical Trading Course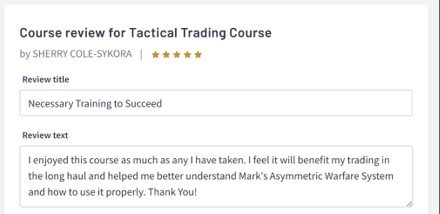 Are you new to day-trading? Or are you a veteran who wants to brush up on their skills?
My team created the Tactical Trading Course so you understand exactly how my strategy works and how to trade with it every day for maximum upside.
You'll discover dozens of short, step-by-step, interactive videos to learn and test your knowledge.
Daily live tactical training with trade expert Coach Brian King
Profit Revolution members LOVE Coach Brian King's no-holds-barred, "tell-it-like-it-is" training sessions. You can watch as he breaks down chart patterns in real time.
You'll become a master at technical analysis – learning all about "doji candles," "shooting stars," "Upside Tasuki Gaps" – while also learning how to manage risk and upgrade your trading mindset.
As the Fed causes volatility to explode, it's NEVER been more critical to stay disciplined and follow your trading rules – that's how you'll learn how to secure the biggest profits.
Exclusive access to my proprietary trading software
You're going to have exclusive access to my proprietary trading software.
This is the exact software that I custom developed to spot stock trends as they develop.
You also have access to backtested data and charting on every single stock in the market – and you can use my Volatility Intel Indicator to find underpriced, $1-or-less options with up to 10X upside.
Now, if I followed the rules of Wall Street I could charge six figures for a venture as comprehensive as this…
But I DON'T play Wall Street's game.
I charge consulting clients $500 for an hour of my time.
Our daily trading sessions run an hour a day… so at a minimum, that's five hours per week…
$500 x 5 = $2,500 PER WEEK.
$2,500 x 52 weeks = $130,000 PER YEAR.
Not to mention access to my proprietary trading tools like my Asymmetric Trading System, all the training courses with Coach Brian, the cost of running a 24/7 chat room…
As I'm sure you can imagine, this all adds up to well over six figures.
And those clients GLADLY pay that fee – because they know the training I provide is worth it.
But not everyone has six figures to fork over for personal consulting.
And my goal is to help as MANY folks as I can learn how to trade.
I like to tell people that if I wasn't a trader, I would have chosen to be a professor – teaching is my passion.
There's a reason I was chosen over all my colleagues at the CBOE to teach the VIX to thousands of people.
So I've asked my team to keep the price as LOW as humanly possible (without us losing our shirts or taking a loss).
So today, you can secure your membership to Profit Revolution for just $1,949 a year.
That's a huge savings off what a subscription like this SHOULD cost.
And it's a ridiculous bargain.
To make your decision to join me as easy as possible, right now you can…
Join Profit Revolution for 30 days
risk-free.
Come join me and your fellow traders in our daily live trading sessions. Go through all the materials in the Tactical Trading Course. Paper-trade the recommendations.
If after completing the Tactical Trading Course you don't think your Founding Member subscription is worth 10 times what you paid…
Just call my VIP Concierge team at 855-509-6600 (or if you're international, 443-353-4770) for a full refund of every penny.
If you want to join me and start trading first thing tomorrow, you need to take action NOW.
But once you click off this page, you may never see this deal again.
I hope you're ready to trade this explosive volatility – because I'm ready to show you exactly how.
Just complete the short order form and you're in.
See you in the live room tomorrow,
Mark Sebastian
Founder, Profit Revolution
June 2022