Trade Your Way to Financial Independence
Over the last six weeks – while the S&P 500 gave investors whiplash – we've made a killing.
That's because we're not buying stocks…
We're trading options.
You might think… "Isn't this the same thing, since we're still using the underlying stock?"
Not at all...
With options, you don't have to rely on a rising price.
You can trade rising AND falling prices.
Which is perfect for the current market, where prices go up and down every single day, sometimes multiple times within hours.
With options, you can take advantage of the daily (sometimes hourly!) volatility…
And multiply your gains much faster than with stocks!
Just look at some of the gains we've made over the last few weeks weeks using this risk-minimizing exit strategy selling 50% of the trade, then 25%, and finally, the last 25%.
While Bank of America went down 15%...
I made gains of 100%... 192%... even 302%... all within a few days!
While Delta Airlines went down 18%...
I made gains of 100%... 193%... and even 400% on 3 exits in this trade!
While Lucid Group went down 13%...
I made partial gains of 63%... 204%... and 304%...
You rarely see gains like these with regular stocks.
And if you did, you'd likely have to wait months - maybe even YEARS.
All these profits came in the last 6 weeks alone.
Of course, not all our trades work out. If I had a crystal ball and could do THAT, I'd be trading from a yacht in the Mediterranean (sorry, Tino!).
But our gains over the last few weeks have easily outpaced our losses…
In fact, I want to be fully transparent with you…
Here's my full list of trades over the last 6 weeks while the overall market dropped almost 6%:
Now, that list includes all of my exits for the trades according to my 3-Step Exit Plan. If you take only the full trades, we have 17 total trades – eight winners and nine losers.
But my average winner is 129% and my average loser is 77%...
In our daily Live Trading Sessions (yes, DAILY), you'll see exactly how we find and place the trades.
There's no guesswork…

The point is this...
If you're serious about making money right NOW… about taking a piece of your portfolio that's on fire and putting that money to work FOR YOU…
Instead of waiting god knows how long for the stock market to bounce back…
This is how you trade.
This is what you need.
And there's no one out there that's better than me at teaching people to trade options. NO ONE.
There are exactly six reasons why, and I insisted that ALL were included in this because I want YOU to have success trading options.
The first is my…
1. LIVE Members-Only Trading Sessions Monday–Friday.
Every single trading day, you'll have a chance to join me LIVE in our private Profit Revolution members-only live trading room at 2:15pm EST.
I'll give you an update on all our open positions and a quick macro rundown of the markets.
Then, we'll get right down to business – and start hunting the latest trade opportunity.
We focus on options trades under $1, because they're the most affordable (Quick math: That's less than $100 per trade).
My scanner narrows down thousands of stocks to the top 30 with low implied volatility relative to historical – which signals a HUGE move is on the horizon.
From those top 30, I hunt for the BEST profit opportunities for $1 or less per option. (At the most, only $100 per contract.)
Then, I show you how to trade these opportunities LIVE every single day alongside a community of top traders.
But you don't have to be there live every day. Because as a Profit Revolution member, you also have…
2. Automated Email Trade Alerts.
Because of a brand-new technology we developed in-house, we can now send emails automatically.
What that means for you is there's no waiting, no worrying, no watching others snag the "best" option price and leaving you in the dust.
The moment I post a new trade recommendation in the Profit Revolution Announcement box, all of the details will go immediately to your inbox.
As soon as I suggest a new trade in the room, this hits your inbox.
Full trade details delivered immediately.
It doesn't matter if you're there live or not. Either way, you'll have all the details you need to make the trade right away.
And every live session is recorded, so you can always come back and watch later.
3. Profit Revolution 24/7 Chat Room
During every single trading session, you'll have a chance to chat LIVE with your fellow Profit Revolution members.
Having a whole network right by your side is KEY to successful trading – I leverage my hedge fund contacts all the time to help me make my moves.
My viewers love to ask questions, swap trading ideas and strategies, and share their biggest wins for the week directly in the chat.
The next 10X windfall opportunity could be hatched right in the chat alongside fellow traders!
4. 24/7 Access to my Tactical Trading Course
Are you new to day-trading? Or are you a veteran who wants to brush up on their skills?
I hired a team of trading experts to make my vision for "Anyone can trade options" a reality.
They built this custom Tactical Trading Course so you understand exactly how my strategy works and how to trade with it every day for maximum upside.
You'll discover dozens of short, step-by-step, interactive videos to learn and test your knowledge.
And you can even track your progress as you move through the modules, save top videos, and come back later to brush up on your skills.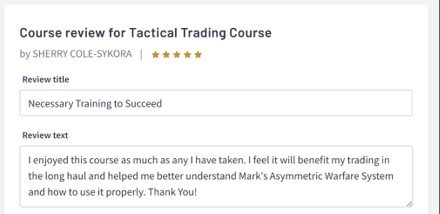 Too scared to start on your own? No problem.
That's why I hired the best trading coach in the business to work with you DAILY during live, small group trainings.
5. Daily Live Small Group Training with Expert Coach Brian King
Profit Revolution members LOVE Coach Brian King's no-holds-barred, "tell-it-like-it-is" training sessions. You can watch as he breaks down chart patterns in real time.
You'll become a master at technical analysis – learning all about "doji candles," "shooting stars," "Upside Tasuki Gaps" – while also learning how to manage risk and upgrade your trading mindset.
That's absolutely KEY in today's market.
As the Fed causes volatility to explode, it's NEVER been more critical to stay disciplined and follow your trading rules – that's how you'll learn how to secure the biggest profits.
6. Exclusive Access to Proprietary Trading Software
You're going to have exclusive access to my proprietary trading software.
This is the exact software that I custom developed to spot stock trends as they develop.
You'll also have access to backtested data and charting on every single stock in the market – and you can use my Volatility Intel Indicator to find underpriced, $1-or-less options with up to 10X upside.
7. My Brand-New Portfolio Repair Crash Course
I don't just say controversial things like "stocks are dead" and walk away… I know many of you probably owns shares in your portfolio. Maybe you lost already money on them this year…
So I want to do something I haven't done before.
I want to hold a class on how to FIX that portfolio – and prevent more losses as stocks continue to be volatile for the next few years. Maybe we can even turn some of these paper losses into gains…
I'll also cover the 10 most popular "long-term hold stocks" and show you how you can get them for a discount now!
This is what you should REALLY do with stocks right now.
So don't miss it…
It's included in your Profit Revolution membership, so just fill out the form below – and you're good to go!
Now, if I followed the rules of Wall Street I could charge six-figures for an options trading product as comprehensive as this…
But lucky for you, I DON'T play Wall Street's game.
I charge consulting clients $500 for an hour of my time.
Our daily trading sessions run an hour a day… so at a minimum, that's five hours per week…
$500 x 5 = $2,500 PER WEEK.
$2,500 x 52 weeks = $130,000 PER YEAR.
Not to mention access to my proprietary trading tools like my Asymmetric Trading System, daily training courses with Coach Brian, the cost of running a 24/7 chat room and building my own custom Tactical Trading Course…
As I'm sure you can imagine, this all adds up to well over six figures.
And those clients GLADLY pay that fee – because they know the training I provide is worth it and they see tangible results.
But not everyone has six figures to fork over for personal consulting.
And my goal is to help as MANY folks as I can learn how to trade.
There's a reason I was chosen over all my colleagues at the CBOE to teach the VIX to thousands of people.
I tell people that if I wasn't a trader, I would be a professor – teaching traders is my passion.
And today, I've insisted we keep the price as LOW as humanly possible (without us losing our shirts or taking a loss).
Normally, the retail price for Profit Revolution is $5,000 a year.
That's a huge savings off what a subscription like this SHOULD cost, and it's a ridiculous bargain.
But I'm a patriot...
And we're celebrating our country's independence on the 4th of July...
And my personal goal for you is that you reach your own financial independence trading alongside me with Profit Revolution.
So today, that $5,000 price tag doesn't apply to you.
Today you can secure your membership to Profit Revolution for just $1,776.
AND, to sweeten this deal and make your decision to join me as easy as possible, right now you can…
Join Profit Revolution for 30 days risk-free.
Come join me and your fellow traders in our daily live trading sessions. Go through all the materials in the Tactical Trading Course. Paper-trade the recommendations.
If after completing the Tactical Trading Course you don't think your subscription is worth 10 times what you paid…
Just call my VIP Concierge team at 855-509-6600 (or if you're international, 443-353-4770) for a full refund of every penny.
That's how confident I am in this trading system.
To join me and start trading options first thing tomorrow, you need to take action NOW.
And know this - once you click off this page, you may never see this deal again.
Recognize this opportunity and what trading options with my system and my daily guidance could do for you.
Over 3,000 people already have… and in the last 6 weeks, it's paid off.
I expect the next 6 weeks to be the same, if not better.
I'm predicting the VIX could hit over 30 by July 15th. And as we know…
MORE volatility = MORE profits
Complete the short order form and you're in.
It's never been more important for you than right now.
See you in the live room tomorrow,
Mark Sebastian
Founder, Profit Revolution
July 2022