on friday, april 29, FIVE STOCKS will start REPORTing RECORD-BREAKING EARNINGS.
start trading these stocks now…
before THEir REPORTS COME OUT.
This earnings season has been a dumpster fire.
JPMorgan reported a $524 million hit in revenue due to Russian sanctions…

CNN April 13
Netflix lost $50 billion in market cap in a single day after reporting its first-ever loss in quarterly subscribers.

Barron's April 19
United Airlines offered a glimmer of hope for the future when the airline said that it expects to return to profitability next quarter – but that was only after reporting missed earnings and revenue.

Zack's April 21
The first quarter of 2022 saw inflation at 40-year highs, record-breaking gas prices, triple-digit oil, and an interest rate hike – and as we've seen so far this reporting season, it hurt almost every sector.
By the end of Q1, the S&P was down 5.5%. The Dow was down 5.2%. And the Nasdaq led the plunge with a 10% drop.
But you can wave goodbye to bad earnings – because…
The Biggest Week of Earnings Season Is Here.
There was one sector that destroyed the rest – and finished the first quarter over 30% higher… cementing its place as the forecasted winner of earnings season.
And that's ENERGY STOCKS.
Rising oil and gas prices may have hurt a lot of stocks across multiple sectors…
But the massive jump in prices helped stocks in the energy space, like oil and mining companies…
And here in Profit Revolution, we took advantage of that.
This is every oil, energy, and mining trade I've recommended in 2022:
We took EIGHT partial play profits of 100%-plus in the first three months of the year. And we did it by trading the only sector that thrived in Q1: energy.
Almost every industry will report disappointing earnings this season.
But not energy.
I expect RECORD-BREAKING Q1 earnings from energy names – and they will finally start reporting THIS WEEK.
Here are the top five energy companies I'm watching this week:
These companies will start reporting on Friday.
But the real profit opportunity starts now.
Because when it comes to earnings, I've got a motto…
Trade to it… not through it.
Take XOM, whose last earnings report came out on February 1.
XOM Pre-Q4 Earnings
Look how the implied volatility, represented by the green line, rose into the report…
And dropped immediately after.
The same thing happened to DVN. Look at the IV rush into earnings on February 16.
DVN Pre-Q4 Earnings
And look at CVX, who reported on January 28.
CVX Pre-Q4 Earnings
Implied volatility decides how much a stock's options cost – meaning they slowly became more expensive into XOM, DVN, and CVX's reports.
Those who traded these energy names before the report would have cashed in on that IV rush.
And that's exactly what we're doing this week as energy stocks break records.
Let's not waste any more time – I'm ready to start trading these five energy stocks with you first thing tomorrow.
And it all starts with…
LIVE members-only trading sessions Monday–Friday.
Every single trading day, you'll have a chance to join me LIVE in our private Profit Revolution members-only live trading room.
I'll give you an update on all our open positions and a quick macro rundown of the markets.
Then, we'll get right down to business – and start hunting the latest trade opportunity.
My scanner narrows down thousands of stocks to the top 30 with low implied volatility relative to historical – which signals a HUGE move is on the horizon.
From those top 30, I hunt for the BEST profit opportunities for $1 or less per option. (At the most, only $100 per contract.)
Then, I show you how to trade these opportunities LIVE every single day alongside a community of top traders.
During Q1 earnings season, we'll see a ton of cheap option opportunities on energy stocks as the market prepares for what will undoubtedly be record-breaking reports.
Profit Revolution 24/7 Chat Room
During every single trading session, you'll have a chance to chat LIVE with your fellow Profit Revolution members.
Having a whole network right by your side is KEY to successful trading – I leverage my hedge fund contacts all the time to help me make my moves.
My viewers love to ask questions, swap trading ideas and strategies, and share their biggest wins for the week directly in the chat.
The next 10X windfall opportunity could be hatched right in the chat alongside fellow traders!
24/7 Access to My Tactical Trading Course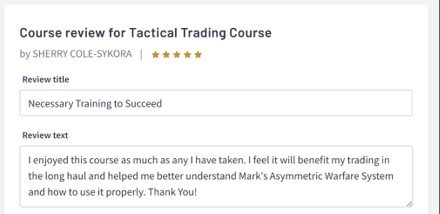 Are you new to day-trading? Or are you a veteran who wants to brush up on their skills?
My team created the Tactical Trading Course so you understand exactly how my strategy works and how to trade with it every day for maximum upside.
You'll discover dozens of short, step-by-step, interactive videos to learn and test your knowledge.
Daily Live Tactical Training with Trade Expert Coach Brian King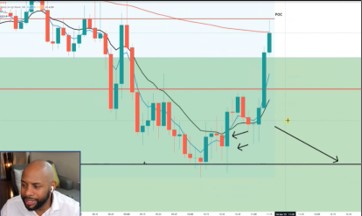 Profit Revolution members LOVE Coach Brian King's no-holds-barred, "tell it like it is" training sessions. You can watch as he breaks down chart patterns in real time.
You'll become a master at technical analysis – learning all about "doji candles," "shooting stars," "Upside Tasuki Gaps" – while also learning how to manage risk and upgrade your trading mindset.
As we enter Q1 earnings season, it's NEVER been more critical to stay disciplined and follow your trading rules – that's how you'll learn how to secure the biggest profits.
Exclusive Access to My Proprietary Trading Software
You're going to have exclusive access to my proprietary trading software.
This is the exact software that I custom developed to spot stock trends as they develop.
You also have access to backtested data and charting on every single stock in the market – and you can use my Volatility Intel Indicator to find underpriced, $1-or-less options with up to 10X upside.
The Profit Revolution Trade Journal
The custom Trade Journal lets you have ALL your trade positions in one easy place.
You can see exactly how each trade performed – including a Model Portfolio analysis of your total return, batting average, and profit factor.
Now, if I followed the rules of Wall Street I could charge six figures for a venture as comprehensive as this…
But I DON'T play Wall Street's game.
I charge consulting clients $500 for an hour of my time.
Our daily trading sessions run an hour a day… so at a minimum, that's five hours per week…
$500 x 5 = $2,500 PER WEEK.
$2,500 x 52 weeks = $130,000 PER YEAR.
Not to mention access to my proprietary trading tools like my Asymmetric Trading System, all the training courses with Coach Brian, the cost of running a 24/7 chat room…
As I'm sure you can imagine, this all adds up to well over six figures.
And those clients GLADLY pay that fee – because they know the training I provide is worth it.
But not everyone has six figures to fork over for personal consulting.
And my goal is to help as MANY folks as I can learn how to trade.
I like to tell people that if I wasn't a trader, I would have chosen to be a professor – teaching is my passion.
There's a reason I was chosen over all my colleagues at the CBOE to teach the VIX to thousands of people.
So I've asked my team to keep the price as LOW as humanly possible (without us losing our shirts or taking a loss).
So today, you can secure your membership to Profit Revolution for just $1,949 a year.
That's a huge savings off what a subscription like this SHOULD cost.
And it's a ridiculous bargain.
To make your decision to join me as easy as possible, right now you can…
Join Profit Revolution for 30 days
risk-free.
Come join me and your fellow traders in our daily Live Trading Sessions. Go through all the materials in the Tactical Trading Course. Paper-trade the recommendations.
If after completing the Tactical Trading Course you don't think your Founding Member subscription is worth 10 times what you paid…
Just call my VIP Concierge team at 855-509-6600 (or if you're international, 443-353-4770) for a full refund of every penny.
If you want to join me and start trading first thing tomorrow, you need to take action NOW.
But once you click off this page, you may never see this deal again.
I hope you're ready to trade the most explosive reports of Q1 earnings season - because I'm ready to show you exactly how.
Just complete the short order form, and you're in.
See you in the live room tomorrow,
Mark Sebastian
Founder, Profit Revolution
April 2022