Master the VWAP –
Start Trading like a Warlock
LIVE Power Hour
Trading Sessions
Monday–Friday, 9:15 a.m.–11:00 a.m. (ET)
7–10 Trade Opportunities per Session (1,000+ per Year)
Enter the trading room and join thousands of top traders for live, hands-on VWAP trading sessions with me Monday through Friday.
Why 9:15–11 a.m.?
Nearly 13% of all trading volume takes place within 30 minutes of the market open.
The V in VWAP stands for VOLUME – meaning the morning is the BEST time for the biggest moves (and the biggest profit potential).
In and Out in Minutes:
VWAP Trading Made
Simple.
Forget looking at 50 different indicators a day. There's only ONE you need to care about – and that's VWAP.
I'll show you exactly how to spot the VWAP breaks, sell the moves, and collect your profits – all within an hour or even minutes.
Bull or Bear, It Doesn't
Matter – VWAP Wins.
VWAP loves volatility. Earnings, short squeezes, "Reddit stocks" – there's always an opportunity to profit no matter what gets thrown our way.
With seven to 10 Trade Alerts per session (1,000+ per year!), you'll learn how to collect potential paydays on both sides of a trade in any kind of market.
Miss a Session? No Problem!
My team created a video archive so you have access to instant replays of every single Power Hour Session – plus special recaps and highlights on our website.
(And don't worry, VWAP works all day, every day – so there's always tomorrow.)
You'll always be alerted by email of any critical updates – and you can sign up for real-time SMS alerts straight to your smartphone.
Work Together – and Win Together with a Community of 1,000+ VWAP Traders
The interactive chat room lets you talk and trade in real time with thousands of Warlock's World members across the world.
You can ask questions, share your VWAP trade ideas, and celebrate your wins – all LIVE in the room.
You'll get instant access to me and my team during every session.
Beat 12 Months of S&P 500
Gains in 15 Minutes with
the Warlock's Watchlist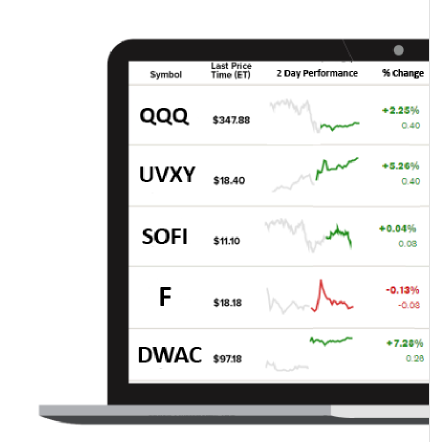 The top 12 stocks I'm monitoring for the biggest market moves could break the VWAP any minute. (93% of my watchlist opportunities have been potential paydays.)
These are released daily during premarket exclusively for Warlock's World members – updated ALL DAY (not just during our sessions).
This is your guide to seeing lightning-fast trades like 14% on COUP in 30 minutes… 70% on IGMS in one hour… and even 19% on KSCP in 12 minutes!
Put the Power of VWAP in YOUR Hands
with My Patented VWAP Trading Code.
Warlock's World members get exclusive access to my proprietary Multiday VWAP code – developed by my own personal coder for intraday trading.
It's a simple formula: Blue line (1-minute VWAP) + Orange line (Multiday VWAP) = "The EKG of the market" – the ONLY lines you need to potentially make huge profits.
Combining these two lines to find 1-minute Multiday VWAP Reversals is my key to spotting winning trades… and with access to my Proprietary VWAP Trading Code, it's now yours.
Multiday VWAP = Average current-day VWAP plus the prior day's VWAP, calculated in real time. The Multiday gives me key support or resistance targets to make actionable trades.
My Team of


All-Star Traders Is Working Around the Clock on Your Behalf…
And We're Dropping Nonstop Knowledge Bombs.
The Daily Decode with Bobby Eight
12:00–1:00 Monday–Friday
Daily interactive group training sessions with Bobby Eight – AKA the 8-Ball or Algo8 – my right-hand man and a master at breaking all my trades down to the nuts and bolts.
Deep dives into all my trades and real-time candlestick and VWAP pattern recognition training – Kardashian Bottom, Rip & Dip, Finger of God, Checkmark of the Lord, upside VWAP breaks, and more.
PLUS, discover actionable trades. (One rare "special situation" options trade could have handed you a 1,000% potential payday on NEM in less than three hours!)
Foundations of Trading with Coach Brian King
11:00a.m.–12:00 p.m. Monday–Friday
Daily interactive training to upgrade your trading mindset using the M3 Strategy – mindset, multiplication, and management.
Coach Brian is a former forex trader with 15 years of experience as a mentor and educator to hundreds of traders.
Learn how to build your trading discipline, keep yourself out of bad trades, when to exit, and how to manage and minimize losses and risk.
Navigate the Chop with Solid Jello
12:00 p.m.–1:00 p.m. Wednesday and Friday
My personal coder (who invented my patented Multiday VWAP) will show you how to identify significant price levels for fast profits and supercharge your charting software.
You'll have access to dozens of custom charting codes including:

Hi/Lo Ticker: tracks stocks that have the ability to move at least $2 in every given day.
Earnings Watchlist: tells you exactly which stocks will report earnings and when.
Market Grid: this overview of 12 critical indices and equities like UVXY, Nasdaq, tick index, crypto, and more gives you a daily pulse of the market.
New to VWAP?

We've Got You Covered.
You'll get access to the 30 Days to VWAP Mastery onboarding series – the ultimate guide to mastering the art of the VWAP in a series of quick, easy, step-by-step videos.
There are ZERO complicated setups, ZERO complicated options, and ZERO investing requirements.
By the end of the series, you'll understand my VWAP trading strategy, how to spot a VWAP crossover, the patterns I look out for, how to enter and exit each position, how to follow my trading sessions, and more.
I'm also handing you a 30-day Money-Back Guarantee once you complete the course.
REAL Stories from Our Members
Are You Ready to Master the VWAP?
Warlock's World Makes It Easy.
Want to Be a Real VIP?
Take Your VWAP Trading Game to the Ultimate Level with a Lifetime Membership
Afternoon earnings sessions 2X–3X a week in the private VIP room – up to 40 extra hours a year with me to trade around earnings season and be ultraprepared for potential reversals.
Premarket Trading Sessions – these exclusive sessions for my Lifetime Members cover premarket trading, entry and exit level charting, trade idea generation, and more.
ZERO ANNUAL FEES – just one single payment and you're a VWAPian for LIFE.
Choose Your Membership Level
See the details below and choose the perfect pricing plan for you.
Safe and Secure Checkout
You get a 30-day Money-Back Guarantee. Cancel anytime in one click from within your account. A link to get instant access is emailed to you directly after signing up.
---