Hi it's Shah.
Thanks for tuning in today.
Let me be blunt.
Inflation is at a 40-year high.
The S&P, the Dow, and especially the Nasdaq are getting hammered.
Every day that you do nothing… is another day your money could evaporate into thin air.
You MUST take action right away.
That's why I'm inviting you to join me as a member of Hyperdrive Portfolio.
This is your once-in-a-lifetime chance to be part of a small group I'm taking under my wing… a group I'll be helping every day the markets are open.
I'm going to show you how to do two things:
GUARD your money against the violent upheavals we're seeing on a regular basis.
GROW your money by riding these same upheavals to MASSIVE profits – over and over again.
Listen, I live for these kinds of markets…
I was part of the team that created the VIX – the volatility index... so I understand roller-coaster markets like nobody else in America...
Which is the reason, if I may toot my own horn here, I've been able to make fortunes in times like these. It's all about eliminating the bad apples – like those flimsy tech companies with no earnings... and following the big capital shifts – where billions of dollars flow.
And right now, we've got not one, not two, but three enormous shifts happening right before our eyes…
That's right – a royal flush.
All THREE of these top targets are ready to go now!
HYPERDRIVE #1
Commodities Supercycle
Our first sector is worth $1.5 trillion – the commodities market.
It's in a new generational supercycle right now. That means for so many great companies, revenue is growing, earnings are growing, and they're paying shareholders with big, quarterly cash payments.
Right off the bat, I'm releasing a little-known but fantastic ag company trading for only $6. It's not to going to be cheap for long… because it's becoming one of the world's leading growers of everything from corn to cattle… and they now have 18 owned and leased farms across three countries. I'm expecting major a price surge for this stock any day now. You'll get this pick as soon as you come aboard.
HYPERDRIVE #2
$5 Trillion Oil and Energy Rebound
This market is once again turning ordinary people into millionaires. And we're going to be playing every part of it – from drillers to producers to shippers.
In fact, I've got a fantastic oil and gas company that most people have never heard of… it's got a lot of upside with year-over-year revenue growth of 80%+! That's unheard-of. Even better – it has quarterly earnings growth of 162%. And this company is just getting started.
Plus, I'm pulling the trigger on another under-the-radar oil company I love… it's about to help Europe kiss dependence on Russian energy goodbye – and I expect it to soar very quickly. I'm talking about massive potential gains because of the Russian blockade.
HYPERDRIVE #3
Rising Rates Tsunami
You can make a fortune playing companies benefiting from high interest rates.
You see, this hyperdrive event is sending companies with pricing power through the roof…
These are companies that can raise prices without it affecting their earnings.
I've got several of these great companies we're moving into… including one that just popped 16% – even when markets were crashing. But this is nothing compared to what could be coming. I believe they're going to skyrocket all year long.
We're going to start building your hyperdrive portfolio with these dream plays
And that's just for starters…
Because you'll also have FULL access to my complete Hyperdrive Portfolio….
Including every stock that we're currently trading.
AND you're going to get every new stock I recommend from here on out.
I'll show you exactly how to trade each trade for maximum potential profit.
I'm talking about step-by-step instructions.
After that, you'll be getting a new trade every week… sometimes, more.
It adds up to more than 52 trades all year long – every one with the potential to double or triple your returns.
And you're going to get full instructions of how to make each move.
Our mission is simple…
Goal #1: Build a Portfolio That Aims to Triple in Value over the Next 12 Months.
Listen, if you're betting on a group of stocks that you have to wait around for 10+ years to take off – you've got the wrong ones.
That's not what this is about.
This is about building a rock-star portfolio with companies going full blast into hyperdrive mode RIGHT NOW.
Unless you've been living under a rock, you've seen what can happen when monumental shifts as big as this send stocks into hyperdrive: huge, triple-digit gains.
I'm talking about historic examples like: Netflix's 779%... PayPal's 413%... Apple's 459%... Amazon's 538%… and look at Tesla's astounding 860% – all within a few years.
But the gains we're discussing today could blow those out of the water...
Because today's capital shift is unprecedented in size, speed, and scope.
Historically, these waves have minted an entire series of millionaires.
And this is exactly the kind of life-changing opportunity that can solidify YOUR financial well-being in 2022.
Goal #2: Aim to Double the Day-to-Day Profits by Applying Wall Street's Favorite Profit-Stacking Techniques.
Now, let me be clear.
We're not going to be day-trading.
That's the sort of thing you see splashed all over the internet from those so-called live trading services. You know, where fist-bumping he-men fly private jets to Vegas. It's a bunch of baloney. Stay clear!
We're Going to Do This the Professional Way. We're Going to Own a Portfolio of First-Class Stocks…
The best stocks with the highest CAGRs I've ever seen and ridiculous growth potential in the fastest-growing sectors. Full stop.
And then we are going to squeeze every drop of profit out of those stocks by doing what the real pros do…
I'm talking about Profit Stacking.
We'll Reverse Scale into these stocks – adding to the position little by little to create a snowball effect, setting up for big future gains.
We'll juice the returns using simple options that can give a series of quick, successive gains on every stock.
We'll create Synthetic Dividends in order to potentially capture a steady stream of income – with 7%, 8%, even 10% yields each quarter.
Now, I've used the term "we" a lot in this message. That's because I view our small group as a team. Now, let me define our roles.
My job is to guide this mission, to find the hyperdrive stocks, and to show you the moneymaking moves you can make on these stocks with the greatest wealth-building power.
Your job is to grow your wealth by deciding which of these exact moves and investments you want to make. Then, execute them efficiently.
But have no doubt – each one of these techniques has the potential to add 50%, 100%, 200%, even 500% to your profits alone over the next year.
That's how we're going to hit the ground running on building the most lucrative portfolio of your life. But we're not finished...
Goal #3: Move into the Next Hyperdrives About to Take Flight.
Yes, we'll get the ball rolling with today's stocks... but we're not going to stop there – not by a long shot.
Any time it's inevitable that hundreds of billions – even trillions – of dollars will be heading into one sector, we'll add the best companies to the portfolio. And we will look to strike just as the pace of that capital movement begins to accelerate.
Here's How It's Going to Work...
The minute you complete the order form below, on top of my elite trading research you'll receive all the Hyperdrive Investor Reports we discussed today.
I'll be doing all the hard work for you – managing all our existing positions in the Hyperdrive Model Portfolio week by week.
I'll give you complete instructions down to a T.
Hyperdrive Trade Alert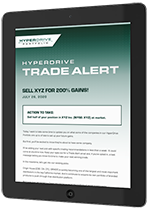 You can also expect a brand-new Hyperdrive Trade Alert every week.
It could be a Profit-Stacking move on one of our exciting plays – or a brand-new hyperdrive stock to get into...
Either way, you'll receive all my research plus complete step-by-step instructions on how to make your move if you want to follow along.
Then, when it's time to cash out I'll send you a detailed Hyperdrive Sell Alert.
This way, you'll know exactly when our indicators tell us to take the money off the table for maximum gains.
These Buy and Sell Alerts are the backbone of my Hyperdrive Portfolio research service.
But membership comes with so much more – including...
My Five-Part Profit-Stacking Tutorial Series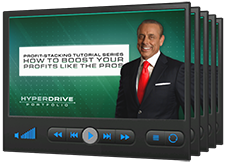 Profit Stacking holds off-the-charts money potential. And you'll be able to execute these techniques with ease – especially after watching the five-part video series, which shows you my exact methodology. You'll learn how to Reverse Scale into each stock... set up and execute options... and create Synthetic Dividends to collect income every quarter.
Look, each one of these techniques has the potential to add 50%, 100%, 200%, 500%, or more to your profits by summer alone.
And once you've learned them, you'll be able to apply these Profit-Stacking techniques to any stocks you own outside of Hyperdrive Portfolio, juicing the profit potential on every dollar you invest.
The Hyperdrive Live Room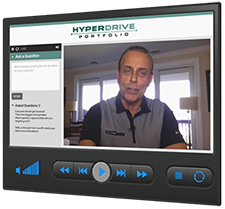 If there's anything we've proven today, it's that every one of these hyperdrive companies is moving at high speed.
That's why each week in our live session, we'll review all the key details – new clients, new contracts, recently announced initiatives, their latest growth projections... EVERYTHING!
We will also scope out our next Profit-Stacking moves. I'll show you exactly how to play them step by step.
This is also where we'll start the vetting process for new candidates. We'll break down trends on the verge of hyperdrive status and track the little companies with the kind of 10X growth potential we're seeking in the next year.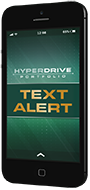 Hyperdrive Instant Text Alert Service
All you have to do is opt in for my instant Text Alerts and you'll get a message whenever it's time to make a new trade or execute a Profit-Stacking move on one of our existing plays. You just follow my easy, step-by-step instructions to get your trade done.
Hyperdrive Portfolio Online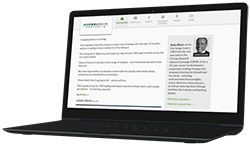 This is your personal online portal that contains ALL of my trade recommendations... research... watchlists... Profit Alerts... and of course, our Model Portfolio...
Every bit of research, training, or profit opportunities I produce for Hyperdrive Portfolio will be available here – 24/7.
Hyperdrive Portfolio VIP Concierge Service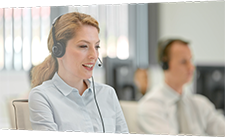 Once you join Hyperdrive Portfolio, you're like family to me.
We're going to be spending time together every day...
Learning, trading, and having a blast.
Of course, if you ever have any questions about your subscription, all you have to do is call...
I'm giving you direct access to my VIP Concierge team.
I've Never Given So Much for So Little.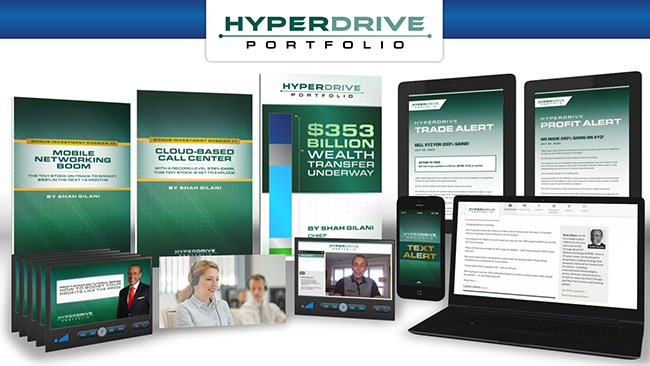 Look – I'm giving you a ton of value here.
The reason is simple. I want you to have everything you need to be successful at your disposal.
You'll be a member of Hyperdrive Portfolio. In my eyes, members have privileges. You'll be my original partner, helping me make this a highly successful venture.
That's why I always give my members special perks.
And I also want to reward you with a very special discounted price.
Eventually, the price of this research service will retail for $5,000 per year.
But as a new member, you won't have to pay anywhere near that price.
In fact, I'm going to give you one of the biggest discounts I've ever offered.
That's right – I'm reducing the member subscription price to a mere $1,495.
That's 70% off the retail price!
I'm doing this as a way to show how excited I am to work by your side.
I'm going to show you how to build what could quickly become the most lucrative portfolio of your life.
Plus, being able to Profit Stack all of these stocks side by side with me for a chance to juice all of these plays for the biggest gains possible…
You can see that I'm giving you a deal of a lifetime.
And I'll even go a step further and make it even easier to say yes with my one-of-a-kind guarantee.
Now, I told you that most of these hyperdrive stocks are expected to soar over a 12-month time period.
But I'm so confident these stocks will go ballistic that I'm going to speed up your profit-making ability with this guarantee…
100% Money-Back Guarantee
See how to TRIPLE YOUR MONEY on at least 10 hyperdrive stocks I recommend in the Model Portfolio over the next 12 months or I'll give you a full refund of your subscription. No questions asked.
That's right – after 12 months, if my track record does not show that you had the opportunity to TRIPLE YOUR MONEY on at least 10 of my recommendations I'll give you your money back.
Even if I miss that target by one pick...
Even if you see nine picks this year that triple your money in just 12 months…
All you have to do is give me a call and I'll issue you a full refund.
That puts all the pressure on me. And that's OK – put my feet to the fire.
I'm willing to go out on a limb because I believe this hyperdrive portfolio we're going to build together could soon bring you more wealth than you ever thought possible.
Look, if you have any doubts that I'll deliver the goods – this membership isn't for you.
As they say, fortune favors the bold.
When it comes to hyperdrive events, there are massive fortunes to be made.
If you want to walk down a new road most people don't know exists...
If you want the thrill and action you can only get playing the fastest-moving hyperdrive stocks...
If you want to learn how to profit like the pros... slicing and dicing stocks for maximum gains… and be able to do that for the rest of your life...
Then complete the order form below right now.
But You Must Move Quickly!
Only 250 Memberships Will Be Offered Today!
That's simply all I can bring aboard in the next 24 hours.
By making your move today and becoming a member, you'll save 70% on the cost to join Hyperdrive Portfolio.
I'll send you all of your hyperdrive recommendations immediately so you can get started.
You'll get a huge jump start on all these stocks BEFORE 99% of people are even AWARE of them.
I'm convinced that this is the best moneymaking opportunity you'll ever find…
Complete the form below now.
Let's play these hyperdrive stocks together.
Sincerely,

Shah Gilani
Founder,
Hyperdrive Portfolio
May 2022